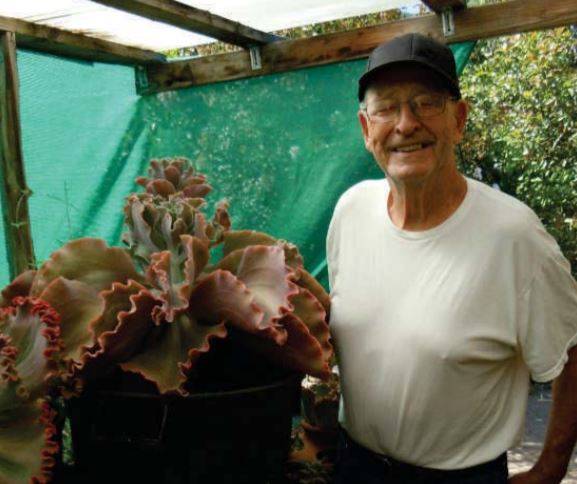 Source: Maggio, M . (1 September 2014).New Hybrids from Dick Wright. Cactus and Succulent Journal 86(5), 214-215,. https://doi.org/10.2985/015.086.0503
Who is Dick Wright?
Dick Wright was born in 1928, making him 91 years old today and still making new hybrids. He began his interest in gibbifloras when he visited a SoCal succulent society meeting and viewed a presentation showing an image of Echeveria Gibbiflora Carunculata. Since then, his fascination turned into a gifted profession, mentored by Professor Harry Butterfield of UC Berkeley, in breeding the most magnificent frilly and bumpy echeverias known around the world. His hybrids are perfected over decades of breeding and selection to make new generations of plants.He is known to be a very gentle and kindhearted person who has creating echeveria hybrids since 1958. Many of his famous and well-known hyrbids include Echeveria Mauna Loa, Baron Bold, Heart's Delight, Arlie Wright, Chantilly, Alta May, Raindrops, Bittersweet, Flying Cloud, and many more! He also breeds many aloes His family-run nursery in Fallbrook, CA ships 100s of new and/or unnamed hybrids throughout the world.
I have dedicated a special page in honor of Dick Wright to showcase his beautiful creations and the patented/claimed creations that resulted from breeding his unique hybrids. Some of the photos featured in the links are from multiple sources or photos from my personal collection.
Click the link below to start your journey into a sea of frills and bumpies.
.
Sources:
Maggio, M . (1 September 2014).New Hybrids from Dick Wright. Cactus and Succulent Journal 86(5), 214-215,. https://doi.org/10.2985/015.086.0503
Wright, K. (2015). About. Wright Nursery. http://www.wrightnursery.com/about.html